COMPLETE PLUMBING—ALL PHASES
Our service technician is available Monday through Friday 7:00 A.M. to 3:30 P.M. to service commercial and residential properties. Call for hourly rates.
Services include repairing leaks, breaks, toilets, sinks, water pressure issues, gas, water and sewer piping problems and many other aspects of plumbing repair.
We also remodel bathroom and kitchen plumbing installations and replace water heaters.
We guarantee our service and any parts we supply and install for 1 year with normal use.
CERTIFICATION: We have our own technicians who are certified to install special gas systems in Medical, Dental
and Veterinary facilities.
DRAIN CLEANING: Call to schedule. If we should be completely booked, we can recommend someone.
EXCAVATING: We also do excavating and earth moving work with our own equipment (see the About Us page).
ESTIMATES: We give free estimates over the phone. If we have to visit the site, there will be a one hour minimum charge.
SMOKE TESTS: We smoke test entire drain, waste and vent plumbing systems to find leaks, solve sewer gas
issues and locate broken pipes.
TV SCOPING: We can TV scope lines 2" and larger to check the condition of pipes. We also have a small TV
scope which can explore inside walls. Our locating equipment can show depths, locations
and routing of pipe systems.
UNDERGROUND FIRELINES: From main to first flange in building.
WATER AND SEWER SERVICES: Commercial and Residential.
Specials for Residential Customers:
• A 10% discount off labor for seniors 60 and above
• A $5 discount coupon for your future service calls, with an attached coupon which entitles a neighbor or friend to $5 off their first service call.
COUPONS MUST BE PRESENTED AT TIME OF SERVICE
Backflow Preventer Install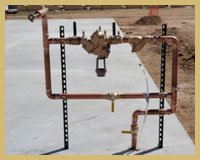 Garbage Disposal Install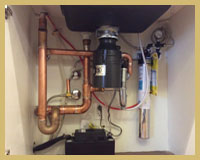 100% SATISFACTION GUARANTEED!!
We accept VISA, Master Card, American Express, Discover, Cash & Personal Checks.